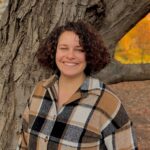 Phoenix Cook
Phoenix Cook just finished their first year in the Linguistics MA program at Gallaudet University. They received their BA in International Studies from Gallaudet University and are now pursuing research in the field of sign language development and spatial use. They are interested in how sign language language environments can impact language development, and the effects of language deprivation on various levels of development. Outside of research, Phoenix is also an avid thespian and enjoys long walks with their dog at the beach.

Jessica Contreras
Jessica is currently a Master's student working on her thesis at Rochester Institute of Technology/National Technical Institute for the Deaf in Experimental Psychology. She has worked with Dr. Peter Hauser at the Deaf Studies Laboratory for over 4 years and is a current Rochester Bridges to the Doctorate Scholar. She is a native Deaf signer and her current research interests pertain to exploring the impact of sign language acquisition on cognitive development. Her goal is to obtain her Ph.D. and continue her career as a research scientist. 

Moa Gärdenfors
Moa Gärdenfors is from Sweden and just received her MA in linguistic and works as research assistant on several projects at Stockholm University. Her major is bilingualism and her goal is to obtain a PhD in bilingualism of deaf, hard of hearing and children with CI. She has written two MA-theses on: how the deaf and hard of hearing children spell and the syntactic structure in Swedish Sign Language produced by hearing L2-learners. When Gärdenfors an avid cat lover, is not studying, or working, she loves cooking, picking chanterelles (a kind of mushroom) in the woods, and enjoys coffee and ice cream.

Konstantin Grin
Konstantin has graduated with a Master of Arts in Sign Language Linguistic from the University of Hamburg with a specialization in neuropsychology. He worked in Prof. Brigitte Röder's lab on several projects. His research interests are in the fields of neuroscience and neuropsychology especially concerning visual perception and the processing of facial expressions. His goal is to improve his research skills and to pursue his research interests by obtaining a PhD. Outside of research, he loves to travel and to experience different cultures as well as debating different topics.

TraciAnn Hoglind
TraciAnn Hoglind is currently a senior at Gallaudet University majoring in psychology and minoring in business administration. She will be going in her third year working at Dr. Petitto's Brain and Language Laboratory for Neuroimaging (BL2) and aims to get a PhD in experimental psychology. TraciAnn plays volleyball for Gallaudet, is active in several organizations, is eager to learn and work further in the neuroscience field.

Geo Kartheiser
Geo Kartheiser is a Ph.D. student in Educational Neuroscience at Gallaudet University and a research assistant with the Petitto Brain and Language Laboratory (BL2) and the NSF Center on Visual Language and Visual Learning (VL2). He received his B.S. in advertising and public relations from Rochester Institute of Technology. He has assisted with research on visual attention, brain plasticity, and signed language assessment tools. His work investigates how the timing and modality of language acquisition impacts the neural networks that support language, learning, and higher cognition. He is also interested in how scientists can improve their relationship with the public. When not wearing the lab coat, Geo enjoys cycling, running, and eating exotic food.
Sarah Kimbley
Sarah Kimbley is a third year student in the PhD in Educational Neuroscience program at Gallaudet University. She received her BS degree in psychology and MS degree in Experimental Psychology at Rochester Institute of Technology (RIT). She currently works in the Numeracy and Educational Neuroscience Lab with Dr. Ilaria Berteletti. In the lab she is actively contributing to the projects of early impacts of language modality on acquisition of early numeracy. She is also actively contributing to fMRI data collection on arithmetic processing and sign language phonology. Her dissertation will focus on the impact of deaf individuals' language experience and working memory ability on their neural arithmetic processing. Outside the lab, Sarah enjoys photography, hiking, indoor rock climbing, and crossfit!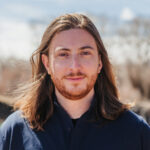 Kaj Kraus
Kaj Kraus is a PhD student in Linguistics at Gallaudet University and a research assistant for the Family ASL project. Previously, he earned a B.A. from New York University and a M.A. from Gallaudet University. His research focuses on the effects of language deprivation across the lifespan, and the benefits of preventing its effects through early exposure to accessible language. When he's not working, he enjoys spending his time mountain biking, skiing, and hiking.

Jenny Lu
Jenny Lu is a Ph.D. student at the University of Chicago working with Susan Goldin-Meadow. She received her BA in Psychology from Wellesley College where she got her first taste of sign language research with Jennie Pyers. Then, she worked at Deafness Cognition and Language Center in London for a year. Broadly, Jenny is interested in how iconicity affects the form of gesture and sign within signed and spoken languages. She is also interested in understanding how signing children learn and acquire depicting constructions. Jenny also loves traveling, hiking, cooking, and practicing yoga.
Work as a summer Lipinsky Intern at LLCN!