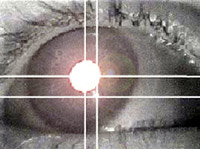 Signed languages exhibit characteristics found in all human languages, but at the same time they include characteristics that are clearly shaped by the visual-spatial modality. One of these properties is the use of eye gaze to mark linguistic contrasts. This project uses head-mounted eye-tracking technology to address the following questions:
What role does eye gaze play in the grammar of American Sign Language (ASL)?
How is ASL grammar learned as a second language by hearing people?
What are the linguistic and cognitive factors that cause shifts in eye gaze during ASL perception?
How do the linguistic and social functions of eye gaze interact?
Funding
This research was supported by the National Science Foundation Linguistics Program (BCS 0517994).
Recent Publications
Thompson, R., Emmorey, K., Kluender, R., & Langdon, C. (2013). The eyes don't point: Understanding language universals through person marking in American Sign Language. Lingua, 137, 219-229. Click to request PDF
Thompson, R., Emmorey, K., & Kluender, R. (2009). Learning to look: The acquisition of eye gaze agreement during the production of ASL verbs. Bilingualism: Language and Cognition, 12(4), 393-409. Click to request PDF
Emmorey, K., Thompson, R., & Colvin, R. (2009). Eye gaze during comprehension of American Sign Language by native and beginning signers. Journal of Deaf Studies & Deaf Education, 14(2), 237-243.
Thompson, R.L., Langdon, C., & Emmorey, K. (2009). Understanding the linguistic functions of eyegaze in American Sign Language. Paper presented at the CUNY Conference on Human Sentence Processing, March, 2009, Davis, CA. Click to request PDF
Thompson, R., & Emmorey, K. (2006). The relationship between eye gaze and pronouns in American Sign Language. Theoretical Issues in Sign Language Research 9, December, Florianópolis, Brazil.
Thompson, R., Emmorey, K., & Kluender, R. (2006). The relationship between eye gaze and agreement in American Sign Language: An eye-tracking study. Natural Language and Linguistic Theory, 24, 571-604. Click to request PDF