Allison Bassett
Allison Bassett received her Bachelor's Degree from the University of California, Santa Barbara in Environmental Studies, and after a stint in the Peace Corps, she started working in academia research where she is responsible for the day-to-day operations of the lab. Ms. Bassett's passion is community public health, wherein she works for a local non-profit organization that serves at-risk populations. Ms. Bassett enjoys camping and being outdoors, cooking for family and friends, and drinking wine.

Cindy O'Grady Farnady
Ms. Farnady is a native signer and has been involved in sign language research for over 20 years. Ms. Farnady works with researchers on a variety of projects, and is primarily responsible for recruiting deaf participants for our studies.

Laurie Glezer, Ph.D.
Laurie Glezer received her Ph.D. in Neuroscience from Georgetown University. Prior to her doctoral work in Neuroscience she was a practicing clinical and research Speech-Language Pathologist. She uses behavioral, fMRI and EEG techniques to examine the neural underpinnings and temporal dynamics of reading and the neural architecture associated with reading and its disorders. Generally, she is interested in understanding the factors that lead to skilled reading, what factors are at play when a person does not acquire typical reading skills, and what can be done to successfully develop or remediate a person's reading ability.

Stephen McCullough, Ph.D.
Dr. Stephen McCullough received his Ph.D. in Cognitive Science from the University of California, San Diego. Dr. McCullough uses functional magnetic resonance imaging (fMRI) to investigate the neural systems that underlie sign language and the cognitive systems that support sign language processing (e.g. face recognition, motion perception).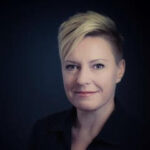 Zed Sevcikova-Sehyr, Ph.D.
Zed Sevcikova Sehyr received her Ph.D. from University College London (UCL) in Cognitive, Perceptual and Brain Sciences (now UCL Psychology & Language Sciences, PaLS). Prior to coming to San Diego, Dr. Sehyr was a Lecturer in English Language and Communication at Kingston University in London, UK. In 2009, she received a Visiting Lectureship in Signed Language Linguistics at the University of Roehampton, Surrey, UK. The goal of her research is to use the study of signed languages to reveal what is universal to all human languages. She also investigates how sign language exposure and deafness impact visual perception, brain organization and language processing (e.g., reading), using behavioral, statistical and electrophysiological methods (EEG/ERP, motion capture). Dr. Sehyr is the Co-Investigator on an award-winning project, ASL-LEX, a lexical database for American Sign Language (ASL) asl-lex.org. In addition to her scholarship activities, Dr. Sehyr writes and reviews science poetry, and engages in science communication and public outreach. She hosts monthly science edutainment shows, Nerd Nite San Diego and reviews science poetry for Consilience Journal. When not doing science, she loves exploring the great outdoors and learning to play the ukulele.